By Grenville Cross
On January 21, Paul Harris SC became the new chairman of the Hong Kong Bar Association (HKBA). When interviewed about his objectives, he announced that he planned to seek "modifications" of the National Security Law for Hong Kong, enacted by the National People's Congress Standing Committee (NPCSC) on June 30, 2020. He felt "particularly concerned" over Article 60, which confers certain exemptions upon personnel of the Office for Safeguarding National Security while discharging their duties, and Article 55, which, in exceptional circumstances, allows criminal suspects who cannot safely be tried in Hong Kong to be tried on the Chinese mainland instead. He was also unhappy with Article 46, which enables a three-judge panel to try a national security case in lieu of a jury in some situations, as where jurors and their families might be placed in danger.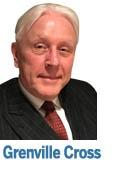 Although these remarks struck observers as odd, their full implications were not, at the time, fully appreciated. On February 8, it came to light that, until January 5, when he resigned, Harris had, for almost three years, been an elected city councilor in Oxford, England, representing the UK Liberal Democrats, one of the major parties in British politics. In the Oxford Mail (January 6), he was quoted as saying "I have immensely enjoyed my almost three years as a councilor", but that he was resigning as "I am relocating to Hong Kong". This was because "I have been asked to be chairman of the Hong Kong Bar for the year 2021". Although he did not disclose who had "asked" him to assume this role, the HKBA revealed that his proposers were Martin Lee Chu-ming SC and Lawrence Lok Ying-kum SC, who need no introduction.
Since the HKBA is supposedly a non-political organization, it came as a surprise that a foreign politician was parachuted in to chair it. Indeed, after the revelations, the former Chief Executive, Leung Chun-ying, joined the chorus of voices calling upon Harris to consider his position. The HKBA itself was forced onto the back foot, saying, in a statement on February 3, that Harris's remarks about the National Security Law were given "in his personal capacity". What, however, the HKBA may not have known, was that Harris's remarks were in line with the position adopted by his party, the Liberal Democrats.
Since Harris's appointment, researchers have discovered that when, on July 2, the former governor, Chris Patten, aided by the Sinophobic propaganda outfit, Hong Kong Watch, issued a statement condemning the National Security Law, it was signed by various political figures, including Harris's party head, the leader of the Liberal Democrats, Sir Ed Davey. The statement called the new law "a comprehensive assault on the city's autonomy, rule of law and fundamental freedoms", and declared that "sympathetic governments must unite to say that this flagrant breach of the Sino-British Joint Declaration cannot be tolerated". Apart from Davey, the statement was also signed by two Civic Party members, Alan Leong Ka-kit and Margaret Ng Ngoi-yee, and by the former leader of the Hong Kong Democratic Party, Emily Lau Wai-hing.
Since Davey signed Patten's statement, the Liberal Democrats' foreign policy spokesman, Layla Moran, the Member of Parliament for Oxford West, which includes Harris's former constituency of St Margaret's, has upped the ante. On September 3, she called the National Security Law a "death knell" for Hong Kong, following this up with a claim that it was "about silencing people". It is clear, therefore, that Liberal Democrat party policy is hostile towards the new law, and Harris's comments simply reflected that policy, but there is much more to it than that.
The Liberal Democrats have now decided to confront China at every opportunity, and to try to cause it harm. On December 2, for example, after three offenders were imprisoned for their part in a six-hour siege of the police headquarters in 2019, Moran denounced what she called "a total miscarriage of justice", saying the time had come for "coordinated international sanctions", presumably against Hong Kong officials. On February 24, Davey called on the Prime Minister, Boris Johnson, to order a boycott of the 2022 Winter Games in China, over its treatment of the Uygur people, claiming that genocide is "happening in front of our eyes". Thereafter, on March 6, Moran told the British House of Commons that the NPC's electoral reforms for Hong Kong mark the "end of democracy and of one country, two systems", and that the "bully" China was in "blatant breach" of the Sino-British Joint Declaration. She then called on the British government to "impose Magnitsky sanctions and other measures on the officials responsible, like Carrie Lam and Xia Baolong".
Although, by his January 21 remarks, Harris has shown he shares the Liberal Democrat Party's approach to the National Security Law, his stance on their other policy positions, including the imposition of sanctions on the Chief Executive, is less clear. What is known, however, from what he told the media on February 7, is that he has belonged to the Liberal Democrats "for most of my adult life", and has no intention of quitting. He said, nonetheless, "I would consider resigning from membership of the Liberal Democrats if I thought that would be of benefit to the Hong Kong Bar or to Hong Kong. However, I think this is unlikely".
An extraordinary situation, therefore, now exists. The HKBA, ostensibly a non-political body, is chaired by somebody who, until January, was an elected official of a political party in England that wants to harm China by, for example, imposing Magnitsky sanctions on local and mainland officials. It beggars belief that Harris considers his membership of the UK Liberal Democrats to be in any way compatible with the HKBA chairmanship, not least because it denies him, or them, any credibility. So long as Harris is the chairman, any pronouncements the HKBA may make will be tainted, as people will wonder whether they are being influenced, directly or indirectly, by a foreign political party.
It is certainly true, as several of Harris's apologists have pointed out, that, in 2008, a former HKBA chairman, Rimsky Yuen Kwok-keung, agreed to serve as a delegate to the Guangdong Chinese People's Political Consultative Conference, the provincial government's advisory body. Any possible concerns, however, were allayed on the basis that Yuen's membership would enable him to help the legal profession to tap into the opportunities opening up on the Chinese mainland. In any event, there is no equivalence between membership of a Chinese organization which can help the legal profession and has the country's best interests at heart, and membership of a foreign political party that is actively campaigning to harm China and its officials.
Although Harris never had much credibility, the latest shenanigans of his party leaders have reduced it to minus zero. If he still refuses to do the decent thing and quit, the HKBA must now give him his marching orders.
(The author is a senior counsel, law professor and criminal justice analyst, and was previously the director of public prosecutions of the Hong Kong SAR. From:China Daily)